April 1, 2015

The Colorado Avalanche will announce during the off-season that they will be getting new uniforms for the 2015-16 season. I know some people associated with the team; so when the team visited Dallas back in February, I got some inside information on what the new uniforms will look like.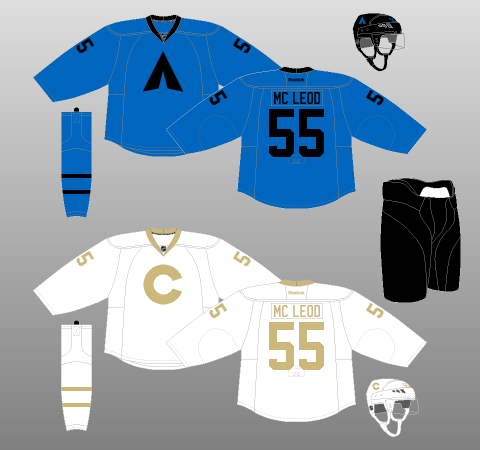 My source spoke with me on the condition of anonymity, since it's against team and league policy to speak publicly about rebrandings before the official unveil date.
He told me that the extreme simple nature od the new uniforms were inspired by the San Jose Sharks. "By removing all extraneous elements of the uniform, including stripes, shoulder logos and number trims, we've created what will be by far the lightest uniform in the NHL. Look what shaving weight off the uniform did for the Sharks last season, the way they were able to manhandle the Kings for the first three games of their first-round playoff series. We want to one-up them and create a uniform that will help us win that fourth game and finish the deal."
One thing that fans will notice right away is a change of colors. Maroon and silver are eliminated, and gold is introduced on their road uniforms as a tribute to Colorado's rich history of gold mining.
Another thing you'll notice is much more simple logos, and different crests for their home and away uniforms. "People have demonstrated an inability to tell blue-and-black apart from white-and-gold, so we wanted to do something so that people can easily tell our new home and away uniforms apart," my source told me.
Along with the elimination of stripes and shoulder logos, the name and number fonts are reverting back to those used by the team's predecessors, the Quebec Nordiques. "We wanted to do something with our new uniforms that will pay tribute to those great teams in Quebec City, including those who lost 60-plus games a season," the source said.
The Avalanche have not announced a date for the official unveiling. Once they announce it, the (unofficial) NHL Uniform Database will keep you updated. We'd be an April Fool not to.
Other posts
2014-15:
Yeah, the Avs are not getting a complete makeover next season, but another team will
BREAKING: Avalanche getting new uniforms for 2015-16
2015 All-Star Game uniforms unveiled
2015 Stadium Series uniforms unveiled
Chicago Blackhawks Winter Classic jersey unveiled, plus a few new templates
Tampa Bay Lightning new alternate uniform unveiled
Washington Capitals Winter Classic uniform unveiled
Pittsburgh Penguins alternate uniform unveiled
St. Louis Blues new uniforms unveiled
Anaheim Ducks new uniforms unveiled