2017-18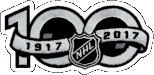 • The NHL's 100th anniversary celebration that started on January 1st continued; teams wore the NHL 100 patch on their right sleeves until December 16th (the 100th anniversary of the NHL's first-ever game).
• The Vegas Golden Knights officially take the ice as the NHL's 31st franchise, and they proceed to make history. They became the first team in the history of major American professional sports to achieve a winning record in their inaugural season, even winning the Pacific Division title in the process.
• A new jersey supplier takes hold as Reebok gives way to corporate sibling Adidas. As was the case a decade earlier, all teams make at least a subtle change to their jerseys. The most notable changes occur in the shoulder yoke and the collar. Also, all tail stripes now follow the contour of the curved hemline.
• With the change in jersey supplier, alternate uniforms are suspended for the 2017-18 season. They would return in 2018-19.
• With the NHL not participating in the Olympics, the All-Star Tournament was held this season at Amalie Arena in Tampa, Florida.
• One of the most feel-good stories in the NHL in years -- on March 30th, with 14:01 remaining in the third period of their home game against the Jets, the Blackhawks are forced to turn to their emergency backup goalie, Scott Foster. The 36-year-old accountant and beer league goalie last played competitive hockey for Western Michigan University 12 years earlier. He enters the game and proceeds to stop all seven shots he faced, making a couple nifty saves in the process. He preserves the Blackhawks' 6-2 victory and is named the game's number-one star.
• Tragedy rocked the hockey world prior to the final weekend of the regular season as 15 people were killed when a tractor-trailer T-boned a bus transporting the Humboldt Broncos of the Saskatchewan Junior Hockey League to its playoff game in Nipawin. Players, coaches and staffers were among those killed.
• For the first time since the 1966-67 season, no team made an in-season coaching change. The Rangers fired Alain Vigneault on April 7th, after the team played its 82nd and final game.
• The Golden Knights advance all the way to the Stanley Cup Final, where their magic would ultimately run out. The Washington Capitals beat the Golden Knights in five games to win their first-ever Stanley Cup. It's also the first Stanley Cup in Alexander Ovechkin's illustrious career.