February 1, 2013
Finally, a new jersey unveiled!
The preceding offseason was one of the quietest in NHL history with a complet lack of new uniforms. The only changes made were the subtraction of some alternate home uniforms. Well, finally, we have a new uniform to introduce to you -- albeit a one-time special throwback uniform. The Vancouver Canucks are celebrating 100 years of hockey on the west coast by paying tribute to the city's first professional hockey team, the Vancouver Millionaires, who played in the Pacific Coast Hockey League from 1912-1922 and won what is still the city's only Stanley Cup in 1915. As part of the celebration, they're wearing a re-colored Millionaires patch on their alternate home jerseys and will wear special throwback uniforms presumably for their March 16th home game against the Detroit Red Wings.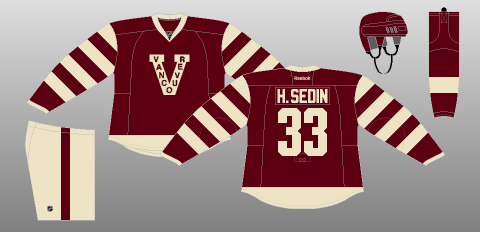 Other posts
2012-13:
Two new uniforms and a new template
Counterfeit jerseys: the big lie
2013 2014 Winter Classic jerseys unveiled
Finally, a new jersey unveiled!
The WHA uniform website is redone
New season (hopefully), new name, new logo
Alternate jerseys: A dying breed?