2017-18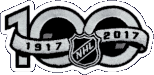 • The NHL's 100th anniversary celebration that started on January 1st continues; teams will wear the NHL 100 patch on their right sleeves until the calendar flips to 2018.
• The Vegas Golden Knights officially take the ice as the NHL's 31st franchise.
• A new jersey supplier takes hold as Reebok gives way to corporate sibling Adidas. As was the case a decade earlier, all teams make at least a subtle change to their jerseys. The most notable changes occur in the shoulder yoke and the collar. Also, all tail stripes now follow the contour of the curved hemline.
• With the change in jersey supplier, alternate uniforms are suspended for the 2017-18 season. They will retutn in 2018-19.
• With the NHL not participating in the Olympics, the All-Star Game will be held this season. It will be played at Amalie Arena in Tampa, Florida.



Anaheim Ducks




Arizona Coyotes




Boston Bruins




Buffalo Sabres




Calgary Flames




Carolina Hurricanes




Chicago Blackhawks




Colorado Avalanche




Columbus Blue Jackets




Dallas Stars




Detroit Red Wings




Edmonton Oilers




Florida Panthers




Los Angeles Kings




Minnesota Wild




Montreal Canadiens




Nashville Predators




New Jersey Devils




New York Islanders




New York Rangers




Ottawa Senators




Philadelphia Flyers




Pittsburgh Penguins




St. Louis Blues




San Jose Sharks




Tampa Bay Lightning




Toronto Maple Leafs




Vancouver Canucks




Vegas Golden Knights




Washington Capitals




Winnipeg Jets




2018 All-Star Tournament
Tampa, FL