2016-17
• On June 22, the NHL awards a franchise to Las Vegas, with the team beginning play in the 2017-18 season. Exactly five months later, the team is christened as the Vegas Golden Knights.
• Four franchises celebrate their 50th anniversaries in their original cities -- the Los Angeles Kings, Philadelphia Flyers, Pittsburgh Penguins and St. Louis Blues. It's also the 50th anniversary for the Dallas Stars franchise, split between Minnesota and North Texas.
• A little comic relief in the preseason -- on October 2nd, the Stars and Panthers met in London, Ontario. The Panthers were the designated home team and were supposed to bring their newly-redesigned red jerseys. Apparently, the team didn't get the memo and brought their new white jerseys instead. Unfortunately, the Stars also brought their white jerseys. With both teams' home uniforms more than a thousand miles away, the fans at the Budweiser Gardens were forced to watch both teams wear white uniforms for the entire game (a 2-1 Stars overtime win, not that it mattered in the long run for the two non-playoff teams).
• Not a bad start: In his NHL debut with the Maple Leafs, Auston Matthews -- the first overall pick in the 2016 NHL Draft -- scored four goals. Despite that incredible feat, it wouldn't be enough -- the Leafs fell to the Senators in overtime, 5-4. Matthews' opening night heroics put him on pace to score a mere 328 goals. His production would diminish, however, and he would have to settle for only 40 goals in his rookie campaign.
• On New Year's Eve, the NHL's two newest franchises, the Columbus Blue Jackets and the Minnesota Wild, squared off in St. Paul, with both teams riding amazing winning streaks -- the Blue Jackets with 14 in a row and the Wild with 12 straight. It's the first time in NHL history that two teams faced one another with both riding at least 11-game winning streaks. The Blue Jackets won 4-2, to extend their streak to 15 games and snap the Wild's run. The Blue Jackets would extend their streak to 16 games -- one shy of the NHL record -- before losing to the Capitals on January 5. The two teams, however, peaked at the wrong time -- both were eliminated in the opening round in the playoffs.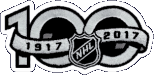 • When the calendar flipped to 2017, all teams added a patch celebrating the NHL's 100th anniversary on their right sleeves.
• The NHL kicked off its centennial celebration with the Centennial Classic at BMO Field in Toronto. In a rematch of the 2014 Winter Classic, the Maple Leafs beat the Red Wings in overtime, 5-4. The Red Wings forced overtime by tying the game with 1.1 seconds left in regulation.



Anaheim Ducks




Arizona Coyotes




Boston Bruins




Buffalo Sabres




Calgary Flames




Carolina Hurricanes




Chicago Blackhawks




Colorado Avalanche




Columbus Blue Jackets




Dallas Stars




Detroit Red Wings




Edmonton Oilers




Florida Panthers




Los Angeles Kings




Minnesota Wild




Montreal Canadiens




Nashville Predators




New Jersey Devils




New York Islanders




New York Rangers




Ottawa Senators




Philadelphia Flyers




Pittsburgh Penguins




St. Louis Blues




San Jose Sharks




Tampa Bay Lightning




Toronto Maple Leafs




Vancouver Canucks




Washington Capitals




Winnipeg Jets




2017 All-Star Tournament
Los Angeles, CA