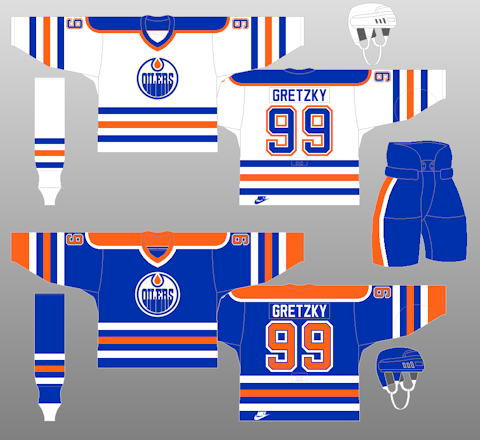 Edmonton Oilers
1981-94
The number trim style changes to a gapped outline The neck trim is also slightly different in the first year of this style. Also, note the manufacturer tag at the bottom left of the back of the jersey. Since Wayne Gretzky liked to tuck the right side of his jersey inside the pants, this was done to ensure that the label would been seen on all players, including the face of the league. That's why later in his career, when manufacturer tags would be placed at the bottom right, Gretzky's jerseys always included the tag on both sides of the jersey.
Looking for Edmonton Oilers jerseys and socks for your team? Check out JerseysMadeEasy.com

To see all Edmonton Oilers-related socks and blank jerseys they carry,
click here.