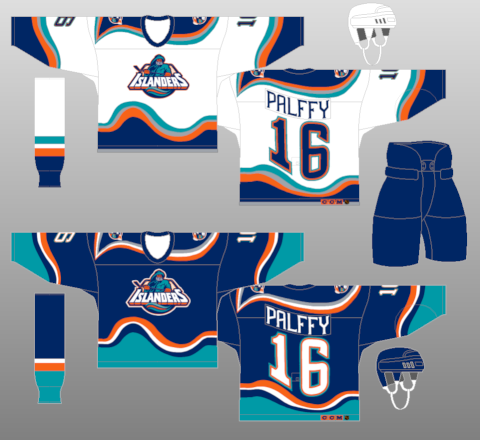 New York Islanders
1995-97
In one of the most ill-fated moves in NHL uniform history, the Islanders ditched their trademark royal blue/orange uniforms in favor of a uniform set that a 1960s stoner would have been proud of. The crest was replaced by one featuring a man bearing a striking resemblance to the Gorton's fisherman. The backs of the jerseys featured names and numbers distorted to follow the contours of the bottom stripes. Needless to say, this uniform set was not well-received by Islanders fans.
Looking for New York Islanders jerseys and socks for your team? Check out JerseysMadeEasy.com

To see all New York Islanders-related socks and blank jerseys they carry,
click here.