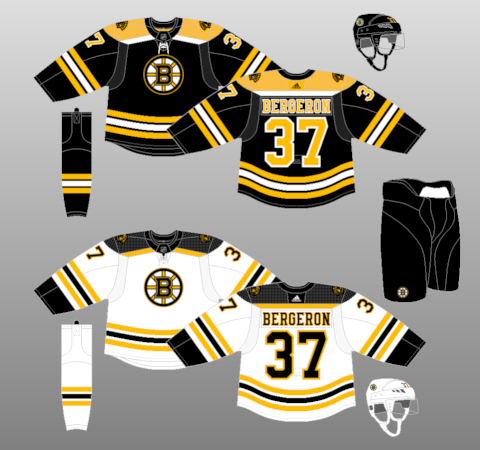 Boston Bruins
2017-present
The Bruins make a few changes to their uniforms when Adidas takes over for Reebok. The trim is no longer gapped on the numbers and home nameplates. The nameplates undergo a minor font change. Most notably, the stripes on the socks match the sleeve and tail stripes for the first time in franchise history. And for the first time ever, the primary black jerseys are paired with black socks. Also, like all other alternate jerseys, the Bruins' alternates are retired -- at least for the time being.
Looking for Bostons Bruins jerseys and socks for your team? Check out JerseysMadeEasy.com

To see all Boston Bruins-related socks and blank jerseys they carry,
click here.